Sweet and savory breakfast with fresh pastries
Manu says: "The breakfast is really super, there is every variety of food"
Tickles your taste from the early morning with a delicious breakfast buffet, served from 7.30 to 10.00 o'clock in the dining room overlooking the sea at Milano Hotel. For those who love the sweet and needs sugar to fuel, every morning we serve fresh, homemade pastries and homemade pies.
Cured meats and cheeses on the other hand for those who have strong tastes and want to start the day with strong flavors maybe combined with a fragrant toast. For everybody, hot and cold beverages, from coffee to yogurt, through tasty fruit-juices.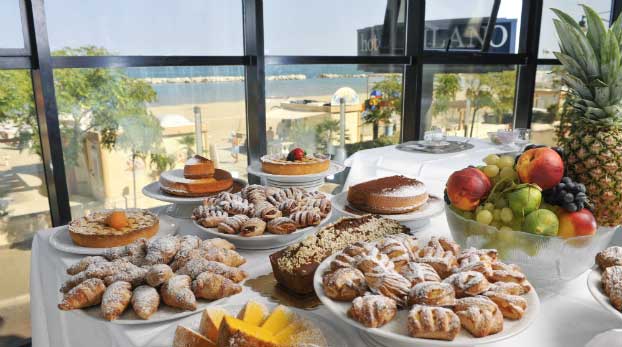 Stimulate your senses. With the coffee aroma and the goodness of our pastry.
Do you stay in Milano Suite Hotel?
For you breakfast with extended hours from 7.30 to 11.00 just in the magical atmosphere of Milano Suite.
Wake up quietly and enjoy a gourmet breakfast buffet with sweet and savory food in an amazing flexible time!